KB20140731 Remove Astromenda Search
UPD (10/09/14)
: To fully delete Astromenda Search, you guys need to delete its remaining yet problematic Internet Shortcut (.url), named "
Cut the Rope
(URL, astromendagames[DOT]om/game/Cut-The-Rope/888?shs=dt&p=ast&utm_medium=icd&utm_source=ast&sc=dt)", on your desktop.
Attachment:
[ 39.32 KiB | Viewed 2832 times ]
In grayware ring, Astromenda Toolbar (aka, Astromenda New Tab, Astromenda.com) is just one of the most sneaky plus stubborn hijackware (browser hijacking, traditionally). We had received
removal request
about this new browser malware, two days ago. We find some innocent readers caring so little about this that we just have to mention it officially. Typically, once such unwanted plus malicious additional offer landed successfully, it would mess around victims' browser clients -- Mozilla's Firefox software is the main target, according to our data analysis; then Microsoft Internet Explorer comes to the 2nd place. What's worse is that such annoyance can easily enter one's PC over some aggressive downware (aka, repacked or modified setup file). So, VirusTotal and/or a good, easy-to-use antivirus agent should be your must-have items. And our PUP cleaner comes as your external defense. Below are the detailed how-to steps on how to manually uninstall if you have time, energy, some patience and/or some Windows skills.
How to manually uninstall Astromenda Search from your computer system?
Part One: Try removing the main program from the programs list (aka, Windows XP's "Add or Remove Programs", or Win8/ 7/ Vista's "Programs & Features"). Below are outlined step by step guide:
WARNING
Before you get started, make sure you've saved all of your personal information such as WordPress-based weblog, Office Word and so on.
- (Re)Log on to your local device as the Admin.
- Run Windows Task Manager (press Ctrl + Alt + Del key); go to the Processes tab on the said WTM window and then check the running processes in the list - for beginners, you had better Google some unknown process(es) for additional info before stopping it from running to ensure you can safely and smoothly remove Astromenda Search. Take the Opera browser's "opera.exe" as an example.
- Then, to automatically delete Astromenda Search, you first check the All Programs on the start menu then, you navigate to the aforesaid Windows Uninstall utility, locate the risky Astromenda Search and launch "Uninstall" or "Change(/Remove)" related option provided by Windows in the list.

(credit: enad Hrg softwareok.de ?6?1 softwareok.com ?6?1 softwareok.eu)
If you cannot use the above solution to remove Astromenda Search, you first use Folder Option to make all hidden files visible: double hit (My) Computer icon on your desktop >> hit Tools menu >> enter "Folder Options" at the bottom >> click View tab on the window >> enable the option "Show hidden files and folders" and cancel "Hide protected operating system files (Recommended)" >> answer Yes to the latter Warning alert from your system, indicating "You have chosen to display protected operating system files bla bla" >> press OK to exit the Options.
Now, take these actions:
- Press Windows + F or you hit Search and/or you input the target in Windows' Search utility by following the onscreen information.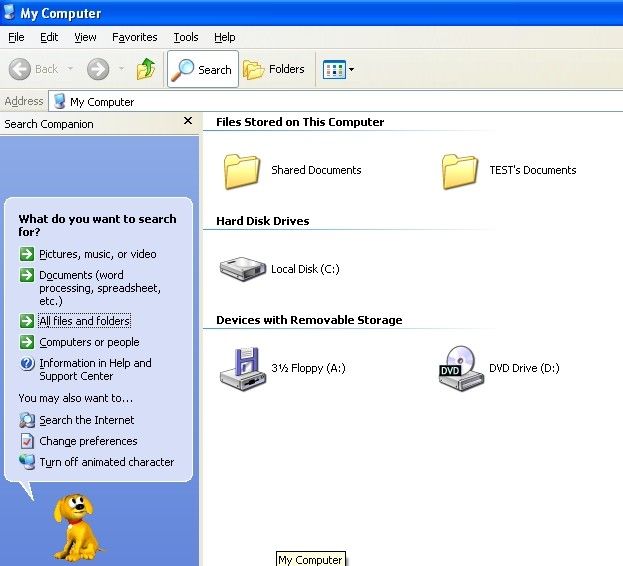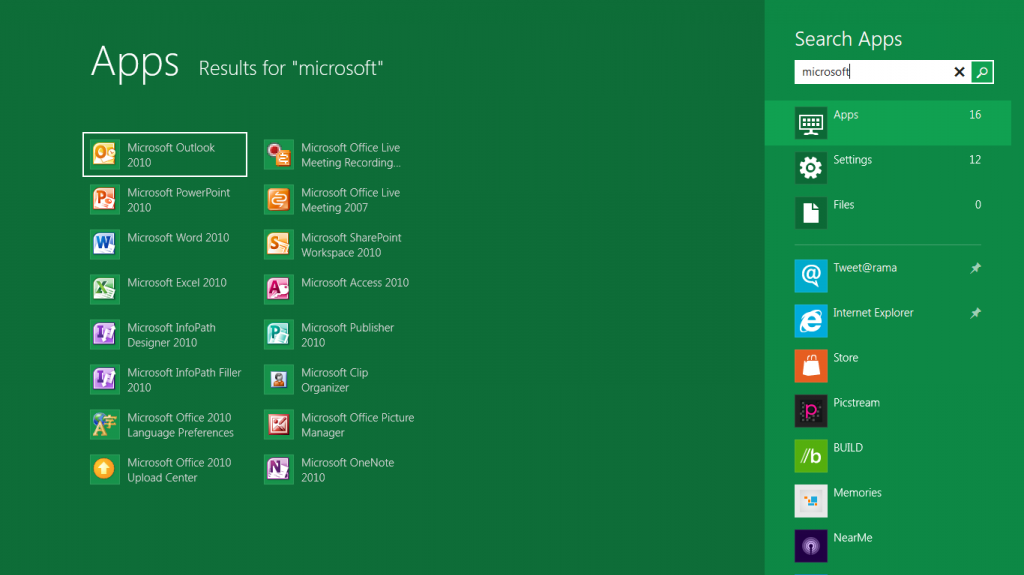 (Credit: Steven Sinofsky @ msdn.com)
- Check the result(s) found by your system, go to the base folder (the PUP's installation location), run Astromenda Search's default uninstaller file such as "uninst", "uninst000" to remove Astromenda Search.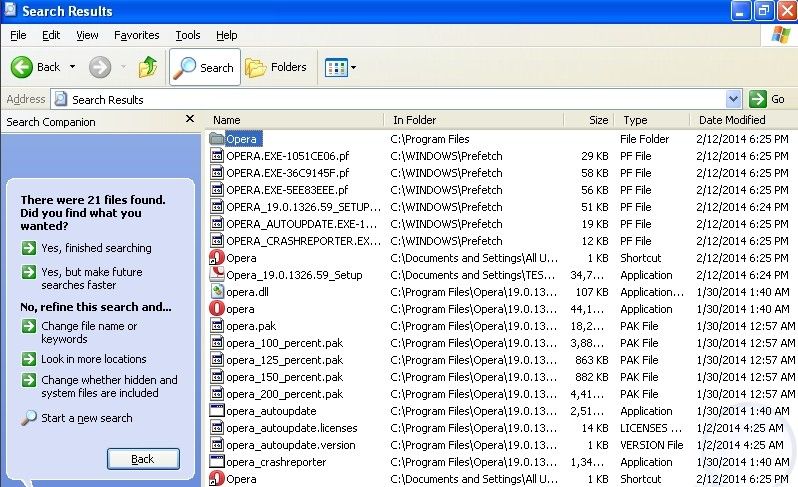 TIP: In some unusual cases, you need to download Astromenda Search's original installer then use the provided "Remove" option to eliminate Astromenda Search itself.
Part Two: Clean your installed browsers to thoroughly clean Astromenda Search.
NOTE To archive the said goal, you need to reset the homepage and search engine provider settings in your Web browser.
WARNING
You may had better export your personal stuff like your saved "Bookmark", installed add-ons and other safe items in your browser programs in order that you can securely remove Astromenda Search.
Section 1: Remove Astromenda Search from Microsoft Windows Internet Explorer.
Step 1: Restore Internet Explorer's start page...
- Run your own IE product.
- Click Tools or the "Gears" menu >> enter "Internet Options..."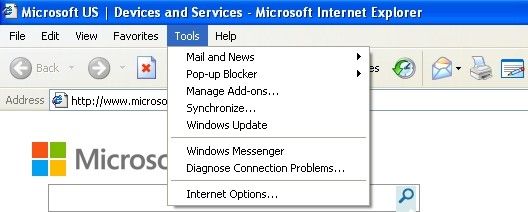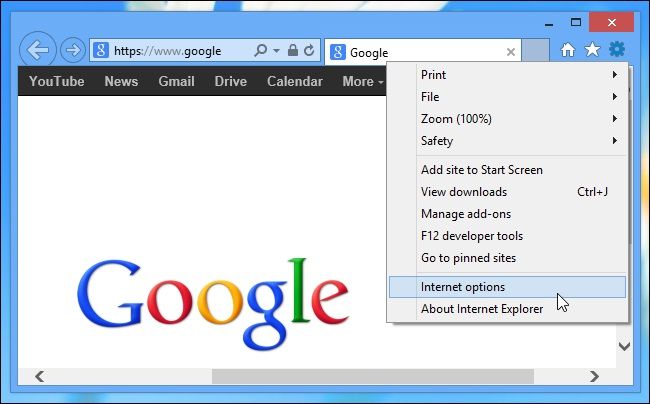 (Photo from TecFlap.com)
- You set the "Home page" to the preferred one you love, such as "www.google.com", you apply "Use Default" or "Use Blank" and then, you click Apply.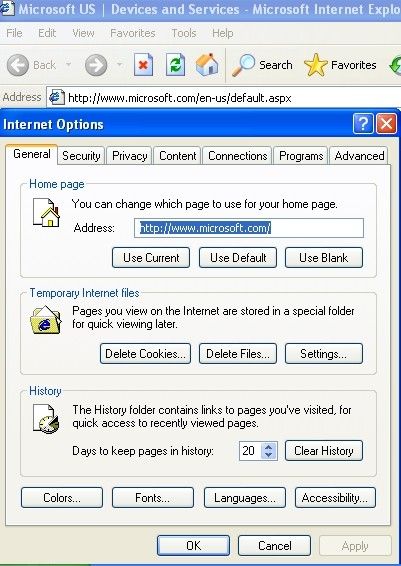 - Now, you use IE's automatic clean function to delete those temp surfing data: to do so, you hit "Delete (Files)...".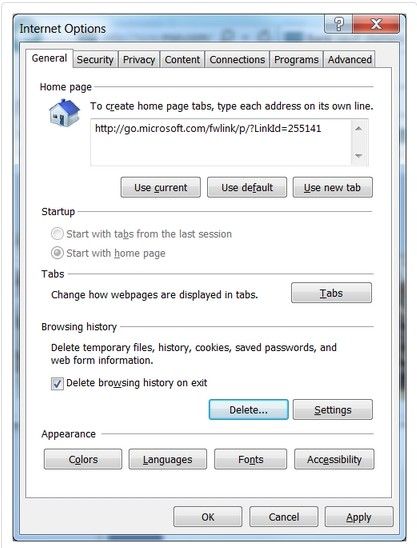 (IMG: deletefrom.com)
Step 2: Repair your hijacked search provider...
- For IE9, IE10 and IE11 users, you check the "Search Providers" section in "Manage Add-ons" portion >> set the 1st engine you like then remove the unwanted one to remove Astromenda Search completely.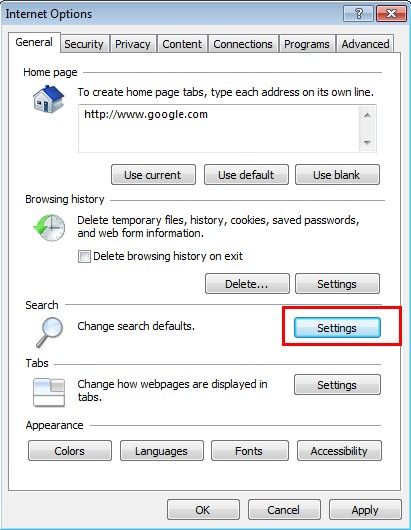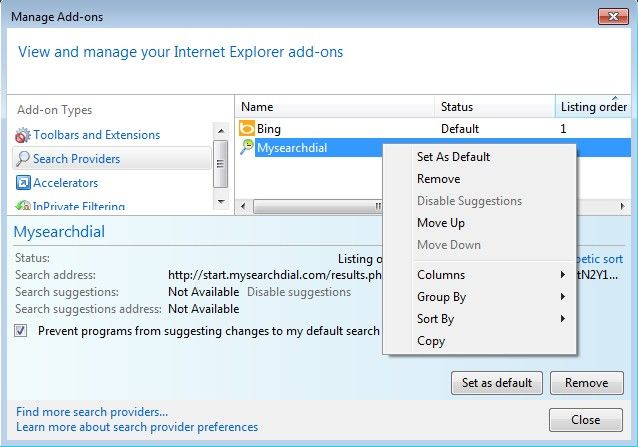 (Credit: dotfab.com)
NOTE If the above option does not work, try the "Reset" option embedded in "Advanced" tab to remove Astromenda Search and its annoying search settings.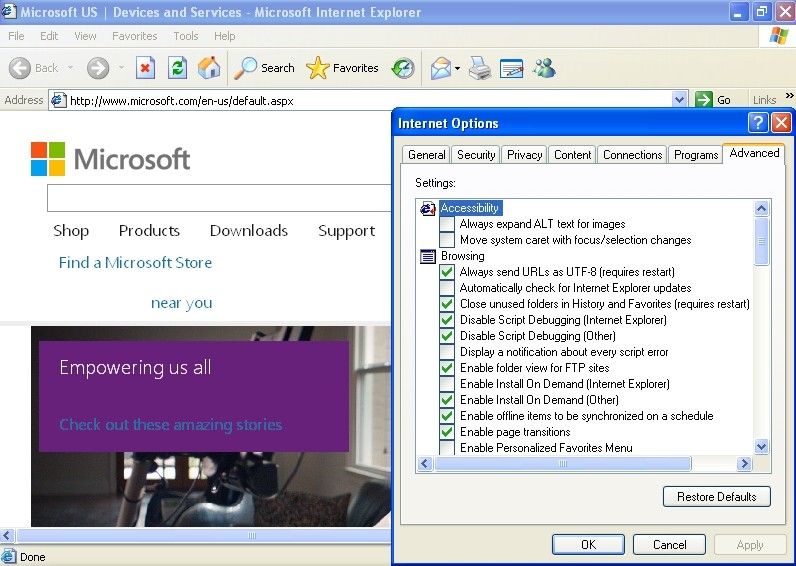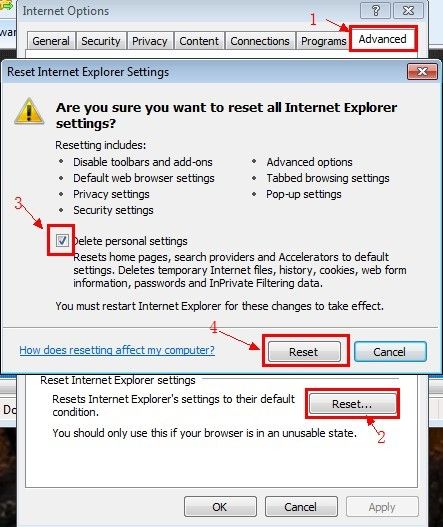 (Credit: dotfab.com)
Step 3: Close and restart your IE software.
Section 2: Remove Astromenda Search from Google Chrome
Preparation: Click on the "Customize and control Google Chrome" icon in the upper right-hand corner of of Chrome window and then select "Settings".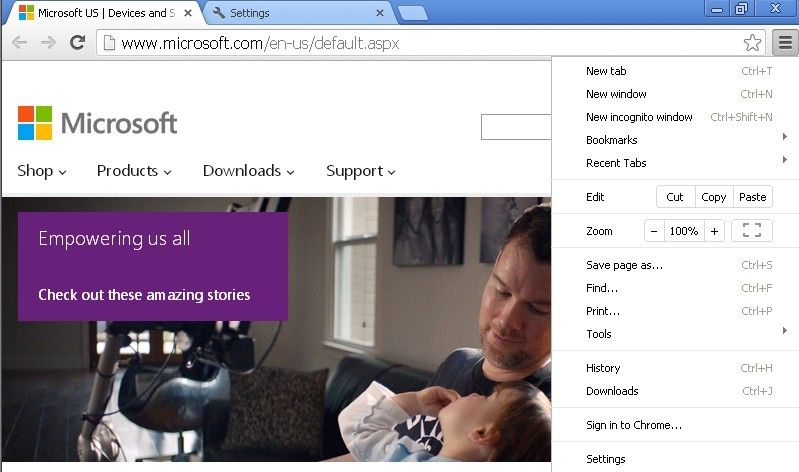 Step 1: Look into the "On startup" portion, hit the "Set pages" option behind the "Open a specific page or set of pages.".
Step 2: Highlight the URL "Astromenda Search", hit the "Close" icon next to it and press OK to shutdown the "Startup pages" wizard.
Step 3: Check the "Show Home button" option under the "Appearance", click Change, erase the misleading Astromenda Search and replace that URL with any other website you desire.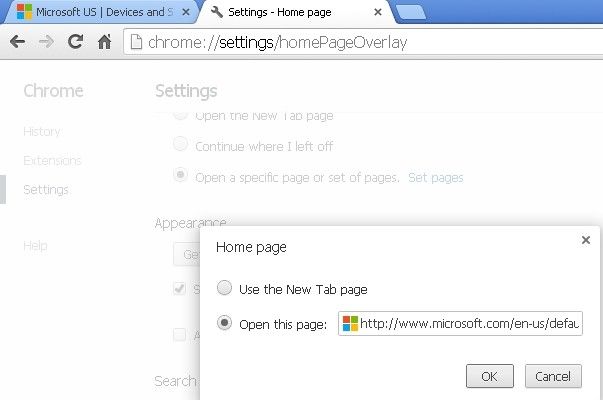 Step 4: Close Chrome's Home page settings window.
Step 5: Hit History and launch "Clear browsing data..." option to remove Astromenda Search from your Chrome app.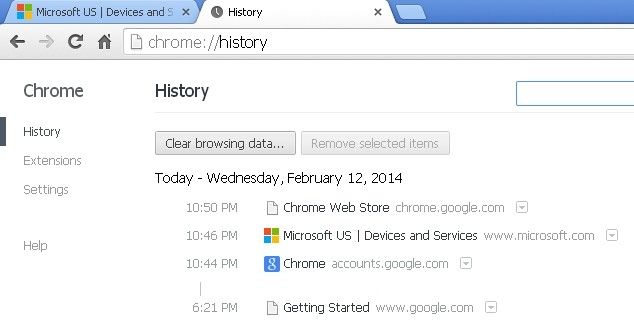 Plan B: Launch Chrome's "Reset browser settings" to remove Astromenda Search in it: hit the "Reset" link >> choose "Reset" option from the below dialog.

Section 3: Remove Astromenda Search from Mozilla Firefox and/or other Mozilla products (Aurora/Nightly).
Step 1: Open your Mozilla software, hit Tools menu and choose Options. Or you click the title of Mozilla and enter Options.

(IMG @ dotfab.com)
Step 2: Click General tab and then, check 'n remove Astromenda Search from the below "Home Page" settings.

Step 3: Open, check your own "Manage Search Engine List" and remove Astromenda Search from the said list.
Step 4: Clear your FF and Mozilla related app's browser traces.
TIP You too can try this tip to quickly remove Astromenda Search: use Mozilla's "Troubleshooting Information" in the sub-menu of Help entry.
Still having trouble getting rid of the said crapware, or restoring your browser settings? Re-think the following super slick program uninstaller for troubleshooting such completely annoying potentially dangerous apps. With such next-generation uninstall tool, Pro, you can securely take down many other incomplete installations/ uninstallations, help unify your Windows or software experience. Give it a try, now!